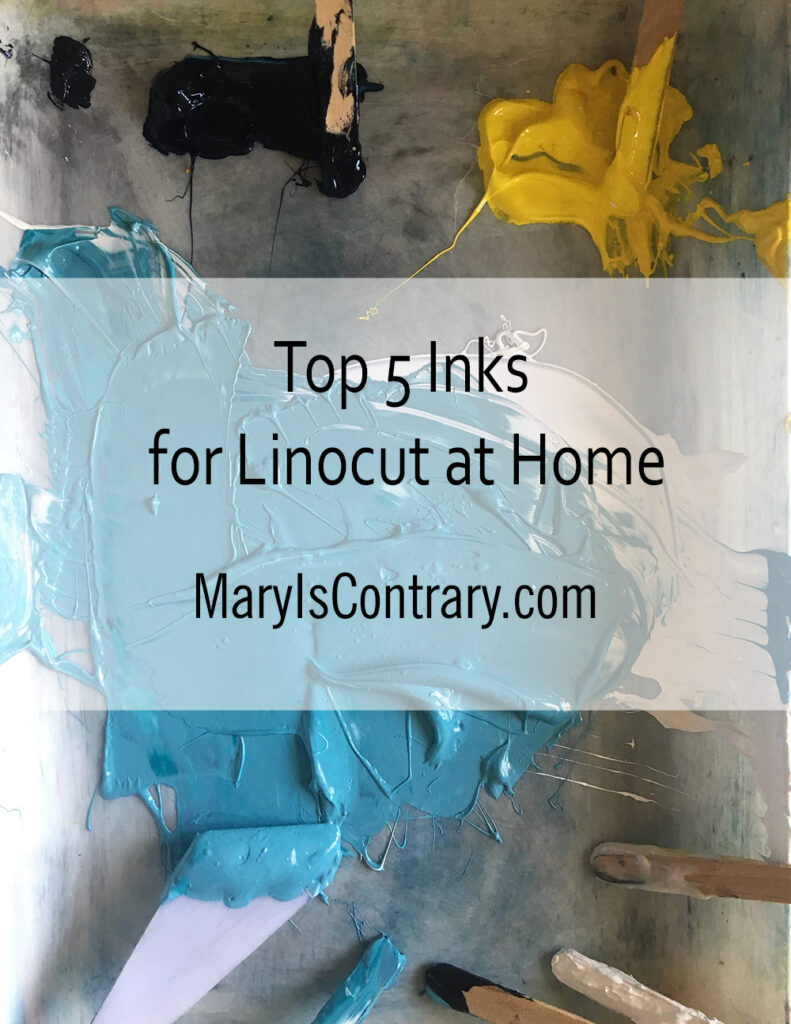 I have done a lot of experimenting with inks available to me in the United States. So if you live elsewhere, these inks may not be available to you in your country. That being said I would like to recommend to you my list for the Top 5 inks for linocut at home.
My recommendations for inks will at the bottom of this post. I will give you the pros and cons of water based and oil based inks.
Oil based Inks for Linocut
Oil based are widely used in print shops. They are highly pigmented and they can be made with either petroleum based oil or vegetable based. As I write about printmaking at home, I will only be covering oil based oils that have a safe wash feature to them.
This means they are usually formulated with some sort of vegetable oil in order for it to be used safely at home.
Pros of Oil Based Inks
A pro for using oil based inks for your home printmaking needs is its ability to stay malleable and the longevity of working time.
You can usually count on having quite a bit of time to do any inking you need.
I appreciate this extra time, because when I make time to do printmaking at home, I really hate the feeling of being rushed while working. Appreciation and love is given to the inks when however long it takes me to get my editions done, I can count on the oil based ink to stay workable.
Another pro with working with oil based inks is the longevity of the inks. They last a long time in their containers as long as they are sealed correctly.
Cons of Oil Based Inks
Drying time would be a big con of oil based ink. You will need to plan your prints by taking into account how long your inks need to dry. I live in a fairly dry area and depending on the paper I use and the air quality, my inks may take up to a week to dry.
Water based Inks for Linocut
Water based inks are usually formulated with mostly water, pigments, and some sort of binder additive. They are not normally used for archival purposes, however, some companies say they can be archival.
Archival ink – a long lasting ink that will stand the test of time. Museum quality.
Pros of Using Water based Ink
Pros of using water based inks for linocut are that water based inks are fast drying. This can be fantastic if you are block printing cards or need more than one layer on a print quickly.
If it takes over a week for a layer to dry with oil, many can see the excellent benefits of quicker drying time. You would only have to wait a few minutes between layers for your prints.
Another benefit of water based inks is the clean up. Cleaning up is very easy and quick. Sometimes only a rag or soap and water can clean up your workstation within minutes.
Cons of Using Water Based Inks
As I stated before, A lot of water based inks lack an archival factor. This can be a deterrent in using these inks if you would like to have a more professional result with your work.
Another deterrent of using water based inks is that if you end up using watercolor or anything with your ink it may smear. You could lose your line that you printed with the addition of other water based media. This may not occur if you use oil based inks.
One more con of water based inks is that the inks shelf life is very short. Within a year you can see your inks dry out and become clumpy. This will affect any prints negatively and can be hard on your budget if you do not want to keep purchasing inks.
Top 5 Inks for Linocut
These are just some of the really amazing inks out there to try. I have tried quite a few inks out with linocut and this list was generated out of my favorites.
This is my Top 5 Inks for Linocut and other printmaking at home. I am sure I will come across more inks in the future and I will be sure to let you know about them.
Please subscribe to my newsletter to stay in the loop for future art related and printmaking ideas.
If you haven't already checked it out, we have a Forum here at Mary is Contrary. Please feel free to check it out and meet other printmakers.
This post contains affiliate links, which generates some small commissions at no extra cost to you. This commission helps keep this blog and shop running. Thank you for your support. See my disclosure form for more information.
Speedball water based block printing inks (water based ink) are great for beginners and are widely available in many stores within the United States. They are usually very affordable and come in small sizes to start printmaking.
Jacquard Screen Printing Inks- (water based inks) These inks are very versatile if you enjoy printing on paper or on fabric. Once heat set, these inks are fantastic for traditional block printing on fabrics. The inks are permanent and easily cleaned up with soap and water.
Akua intaglio ink (water based ink) is a go to for me when I do demonstrations. As it is a water based ink and it stays very workable for hours. It cleans up well with water and soap as well as some baby wipes.
The ink is a little more sticky than oil based inks as far as clean up is considered. Overall, I really like the ink. This ink can be used for monotype, linocut, or intaglio. It is a very great ink to practice with or for your finished pieces.
"Akua Intaglio soy-based permanent inks are a non-toxic, environmentally safe way to do printmaking. Formatted for intaglio, they can also be applied with a brayer for relief, monotype, and collagraph printmaking techniques.

Combine Akua Intaglio Ink with Solarplate for a completely water based intaglio process. Akua ink has a rich, thick consistency with minimal dryer and cleans up easily with soap and water.

Print from plastic, wood, linoleum, or metal plates. You don't need any special ventilation, toxic solvents, or fireproof containers." Blick Arts
I was recommended this Speedball Professional Relief inks by a fellow printmaker, Pavel Acevedo. He is a sponsored artist from Speedball but I tried out the ink and it was worth the hype.
It was very easy to clean up with soap and water which is a huge pro for myself. It was excellent in rolling out and applied very well. The blacks are very rich and I really enjoyed this ink.
"Formulated to possess all of the working properties that artists demand, Speedball Professional® Relief Inks are made from the highest quality, lightfast pigments and contain no fillers.

They roll out consistently and transfer beautifully, resulting in intense, crisp, archival prints. Containing (10) single-pigment colors and a Transparent Base, these professional-grade inks all carry the AP Seal and can clean up easily with soap and water or traditional window cleaner.

Most notably, the Speedball Professional Relief series boasts its flagship color-Speedball® Supergraphic Black, created by world-renowned relief artist, Bill Fick." Speedballart.com
Cranfield Caligo Safe Wash Relief Inks have been my go to inks for linocut for many years. The inks are always very rich in pigment, easy to work with, and always print with such beautiful results. I purchased them because they were one of the first inks I discovered that were safe to use at home.
They easily clean up with soap and water. You can use an extender for multiple layers of ink as well. The extender does not damper the pigmented colors but adds a wonderful thinness to the ink so you can print in many layers.
"Caligo Safe Wash Relief Inks are oil-based relief/block printing inks that are easy to clean up with soap and water. Made from polymerized vegetable oil and artist-quality pigments, they produce a unique product that is suitable for all types of block printing, including wood engraving, linocut, woodcut, and letterpress printing with photopolymer plates.

Safe Wash Relief Inks print on a wide range of papers with the quality, intensity, and precision of an oil-based ink yet they're safe for use by beginners and experienced printmakers. Because no solvents are required for cleanup, they're ideal for printmakers who desire a non-toxic studio environment.

The Safe Wash Relief Ink range consists of a variety of high-strength colors, including a set of process colors for CMYK printing or mixing. Every color has a lightfast value of at least 6 on the International Blue Wool Scale (BWS)." Blick Arts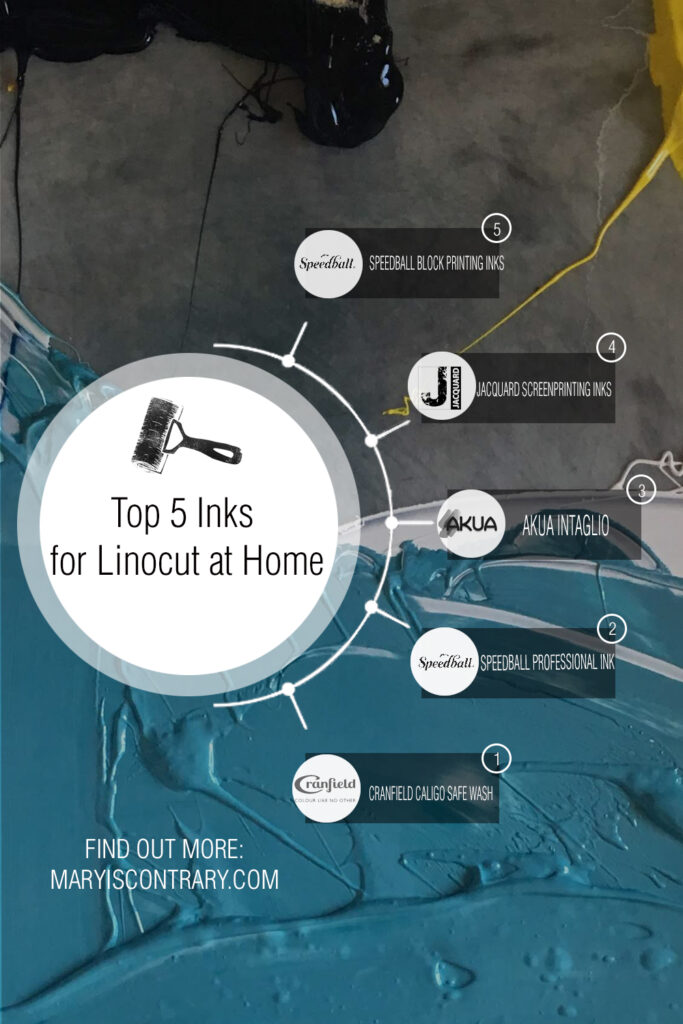 Read More
I hope you enjoyed my Top 5 Inks for Linocut at Home. Each of these kinds of inks are great to use for demonstration purposes, for easy clean up, and for excellent results.
If you would like to know my recommendations for paper check out this post.
Or maybe you would like more information about tools.