If your interested in getting started with printmaking you only need a few basic tools to get you going. The following tools are specifically for you to start printmaking with linocut.

This post contains affiliate links, which generates some small commissions at no extra cost to you. This commission helps keep this blog and shop running. Thank you for your support. See my disclosure form for more information.
Linoleum

This is classic Unmounted BattleShip Gray Linoleum is a great tool to start carving into. Unlike some other linoleum that can be more like a rubber material, this linoleum is easy to draw directly onto the block (remember your image will print in reverse). You will also be able to erase the image easily.
Carving Tools
2.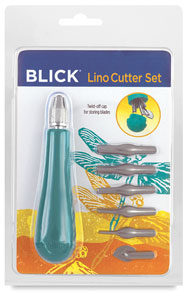 LinoCutter Set
These linoleum carving tools are a great beginner tool. I started off with a similar set up and frequently still use some of the carving tips for various projects. Once you find yourself more experienced and want to try more professional tools there are many different ones you can upgrade to. I will write a post about that in the future.
For now, to start, this is a very cost effective tool to start with.

A set to get you started
3.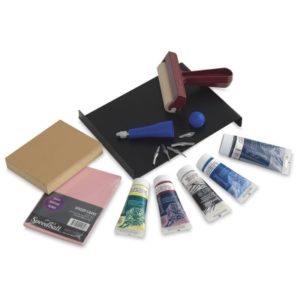 If you want an all in one option, this kit looks like it contains everything besides the paper to get you started. It even contains a bench hook. I made mine from scrap wood, but if you don't want to waste your time building up the kit and you need to get your hands dirty right away, try this kit out.
It looks like it contains the ink (water based), brayer, carving tools, and a few blocks to get you started.
Paper
4. So now if you have ink, carving tools, and a block all you would need is some paper. I will have another blog post about paper types, but if your just looking to get started I would suggest these options that are excellent for hand printing.
a.
This is sold in individual sheets. It's a Japanese paper that is very strong and white. I have used it many times and it prints beautifully.
b.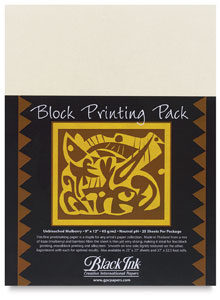 This is a small pack of Kozo (mulberry) paper. I used a similar package for my World War Two Print series. The paper is very strong and very easy to use for hand printing.
c.
Strathmore 400 Series Printmaking Paper
This company Strathmore is a United States based company and they have beautiful paper. It is much thicker than the other two options, but it can still be good for hand printing.

The rest
5. Other tools you will need for the actual printing:
– A wooden or metal spoon
– Paper towels
– A piece of smooth plastic, flat palette, plexiglass, or glass (tape the edges to avoid cuts) This is to roll out the ink.
– Gloves (optional)
If you want specific directions on how the process works check out this post.