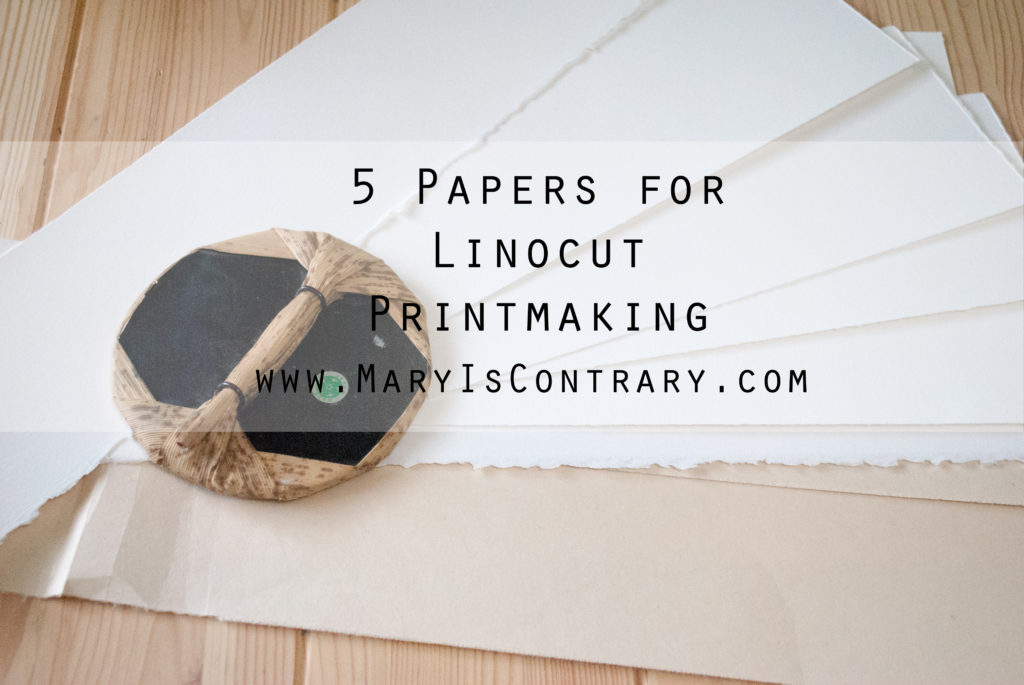 At the beginning of this year I sought out to find the best and most affordable fine papers that work well for linocut printmaking.

In a previous post I go over a little about paper types and the way they are made. You can read about that here.

After bit of trial and error I have come up with my current top 5 papers that are great for linocut printmaking.

This post contains affiliate links, which generates some small commissions at no extra cost to you. This commission helps keep this blog and shop running. Thank you for your support. See my disclosure form for more information.
Favorite Papers for Linocut Printmaking
5. Rives Paper BFK White
250 gsm
Description Measurements: 19.5 x 25.5
Actual Measurements: 19.75 x 25.75"
100 % Cotton
Acid Free
Has Watermarks
Deckled Edge
Made in France
Archival
Description
I had heard a lot about the quality of Rives BFK paper and I was very excited to try it. This paper is very smooth and quite thick with light sizing (you can read more about that here).

The results were not very thrilling. When I went to print I did not get the cleanest of lines out of this paper. I tried it both slightly damp as well as dry through my press. A disappointment because I wanted to love this paper, but I did not.

Value
Perhaps my expectations were too high or maybe it was the price which was a bit high per sheet.
Why Try It?
It is on my list because a lot of people who do printmaking love this paper. My suggestion is you try it for yourself and please let me know how it goes.
I have not totally given up on the chance to use this paper again and will definitely try it again in the future.

4. Legion Stonehenge Paper
90lb or 250 gsm
Description Measurements: 22 x 30"
Actual Measurements: 22.25 x 30"
Two Deckled Edges
Machine Made in USA
100 % Cotton
Description
This Legion Stonehenge Paper has a softer texture with a smooth surface. It prints well and consistently had sharp edges and absorbed the ink well.

Value
This paper was one of the most affordable options. Which made it a huge selling point when I went to purchase it.

Why Try It?
I would recommend this paper to anyone who wants to start using fine art paper for an affordable price.

3. Awagami Hosho Select
80 gsm
Description Measurements: 17 x 20.5"
Actual Measurements: 17 x 20.5"
Deckled edges
100% Alpha Cellulose
Made in Awagami Mill in Japan
Acid Free
Archival

Description
I used this Awagami Hosho Select paper for some monotype prints and I liked it a lot. It's fantastic for hand printing on linocut, especially because of how thin it is. However, don't let that deter you, it definitely holds up with a lot of pressure from a press.
This paper is very strong and smooth. It was very white and a bit translucent but still opaque enough to have the black ink I used stand out.

Value
The price of the paper was pretty high for the size of the sheet ordered. But I got fantastic results, so it was worth it.

Why Try it?
I really think that this paper was worth trying. However, I do think for the size sheet you get when ordering it there may be better values out there.
2. Masa Paper
77gsm
Description Measurements: 21 x 31"
Actual Measurements: 21 x 31"
Machine made from sulfite pulp
Made in Japan

Description
Masa Paper is smooth, strong, and very white. I love this paper. The paper is very durable and does not wrinkle easily.

Value
It is very affordable for its size. You can feel guilt free about spending on fine art paper because it is probably the most affordable option for the quality.

Why Try It?
I was able to make many different linocut editions using this paper and I will use it again. You could use it for proofs or for your full edition.

All around good paper. The results I have gotten from hand printing or even on the press have been consistently great.

Finally…
1. Strathmore 500 Series Riverpoint Printmaking Paper
280 gsm
Description Measurements: 20 x 30"
Actual Measurements: 20 x 30"
100% Cotton
Acid Free
Made in USA
Archival

Description
Strathmore 500 Series Riverpoint printmaking paper is strong, smooth, and very white in color. Both sides are printable. I could not tell if there was a front or a back like some of the other papers with a watermark or clear sizing on one side.

It was packaged in a plastic envelope. I bought this not even thinking that I would like it, I just purchased it to compare with the Arches BFK Paper because I heard this was the American version of that type of paper.

Value
The paper is moderately priced per page. The sheets are large like the Masa paper and I was able to utilize most of the paper into conventional sizes without much left over.
Why Try It?
I am so glad I purchased this paper! This paper is my favorite so far! Full disclosure I only have printed using an etching press. So I am not sure how it would do with hand printing. I will try it out soon and update this page.

When I was making my editions, I could not believe how wonderfully consistent every print was. Every single one was crisp and absorbed the ink. I would strongly recommend this paper to anyone.

I'd love to hear from you

If you have any favorite go to papers for linocut printmaking please comment below. I would love to try them.