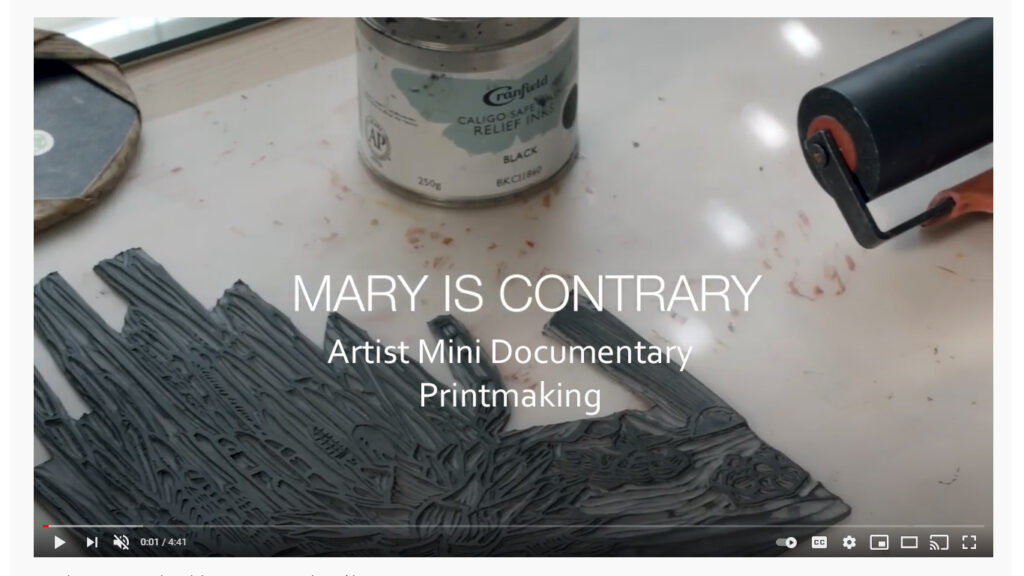 I was recently interviewed and filmed making my linocut and woodcut prints by Northgate Entertainment. They made this cool Mini Documentary about the printmaking process and my journey to printmaking.
Please check it out!
The Process
In the video I go over the process of printmaking. I have been blogging about the process of Printmaking at home for a few years now.
I go over transfer methods, different materials , and my recommendations for tools and paper.
If you would like to know more about the process please check out these posts.
Getting Started With Linocut Printmaking
What are the Best Lino cutting tools?
5 Papers for Linocut Printmaking
Paper info: Printmaking with Linocut
Printmaking at Home: Hand printing your linocuts
Top 5 Inks for Linocut at Home
Join the Forum
Did you know there is a space in the Mary is Contrary website where you can talk to me and other printmakers about printmaking at home.
There are recommendations about paper, tools, and other process information. I would love to hear from you there.
Feel free to post about your favorite methods and tools you love.
About the Mini Documentary

This artist Mini Documentary was brought to you by Northgate Entertainment.
Northgate Entertainment is a California based production company specializing in the complete creative workflow of television commercials, documentaries and films.
They recently published a very cool commercial around Christmas time for IEHP . Check it out here.
For bookings
Please visit: https://northgateentertainment.com/
Social Media
Instagram – @northgate.entertainment