Starting out with linocut printmaking can be both fun and daunting especially when you look into the large variety of tools you can purchase for linocut.

When I first started out carving with linoleum I had to learn a lot about the different kinds of tools out there. Honestly, there are a lot that will probably get the job done and do an amazing job.

Best Lino Cutting Tools
To save you some time right away and let you know what the best lino cutting tools are. By the way, I have not used every tool out there and these are strictly my opinions. However, the tools I am about to tell you about are amazing and I think you'll be happy with the results.

This post contains affiliate links, which generates some small commissions at no extra cost to you. This commission helps keep this blog and shop running. Thank you for your support. See my disclosure form for more information.
The best Lino Cutting tools are Pfeil Swiss Made. This is Palm set B to be exact. This company sells a variety of tools, but this set specifically is amazing for working with lino cutting.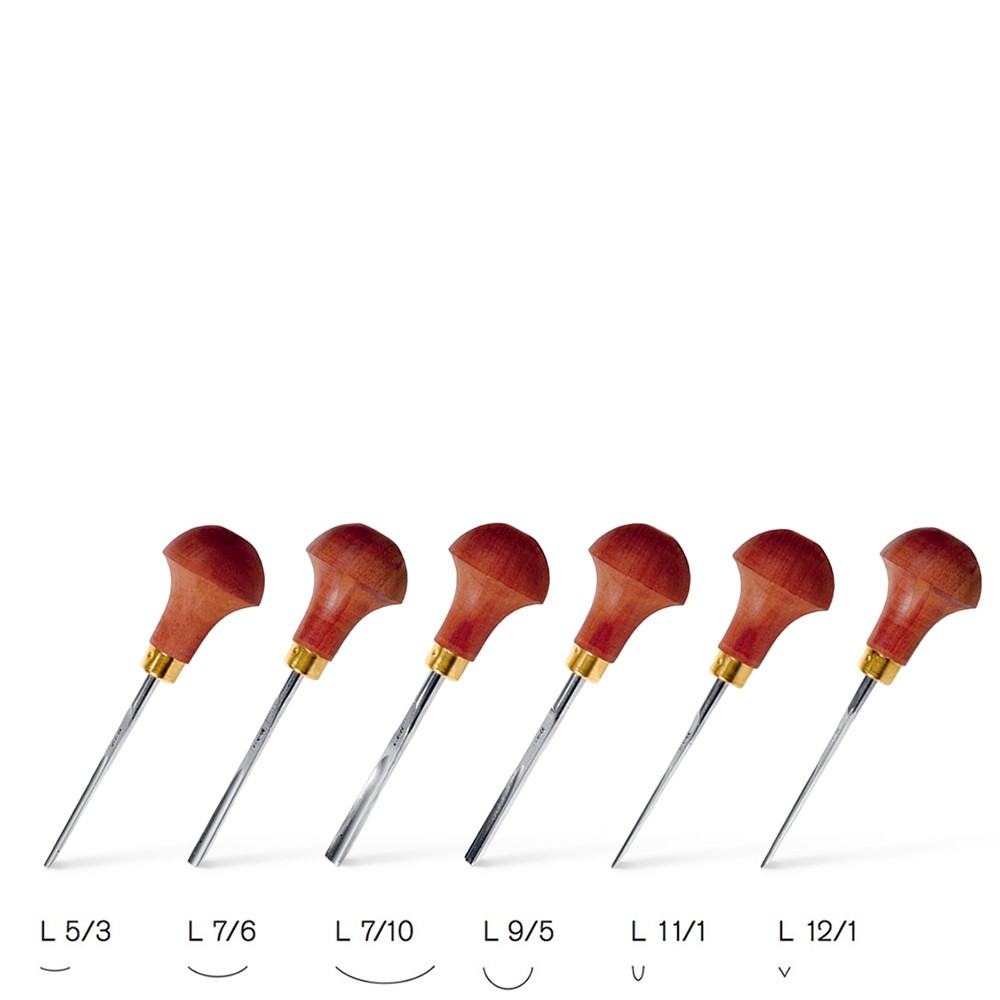 Handles
The handles are specifically made to fit in your palms and to prevent rolling off tables. This customization really shows the craftsmanship of these tools.

The reason why this tool set is so amazing is the dimensions of the gouges. The smallest v gouge opening measures 1mm !!! This is amazing for fine details.

I own this set and can tell you from personal experience that the tools are so beautiful. They are strong, well crafted and definitely worth the money.

This set B in particular comes together in this set of 6 carving tools. However you can purchase them separately. This is great in case your v gouge wears down after time.
Pfeil's tools are so nice. They are what you may consider to be heritage tools. The type of tool you pass on to descendants of yours.
What is the difference between a V gouge and a U gouge?

When I was first learning about these kinds of tools I heard new terms like V gouge and U gouge. I had never heard of these terms or knew what they were referring to except the general shape of the tools themselves.

V Gouge Defined

A V gouge known especially because of the V shape at the tip of the tool is used for fine outlines and details in carving. The shape it carves out is great for outlining or for defining an edge.

The V gouge that comes with the Pfeil set previously mentioned is perfect for very small details. Although, there are many different sized v gouges out there. The difference in the sizes can give you a large range of carved results.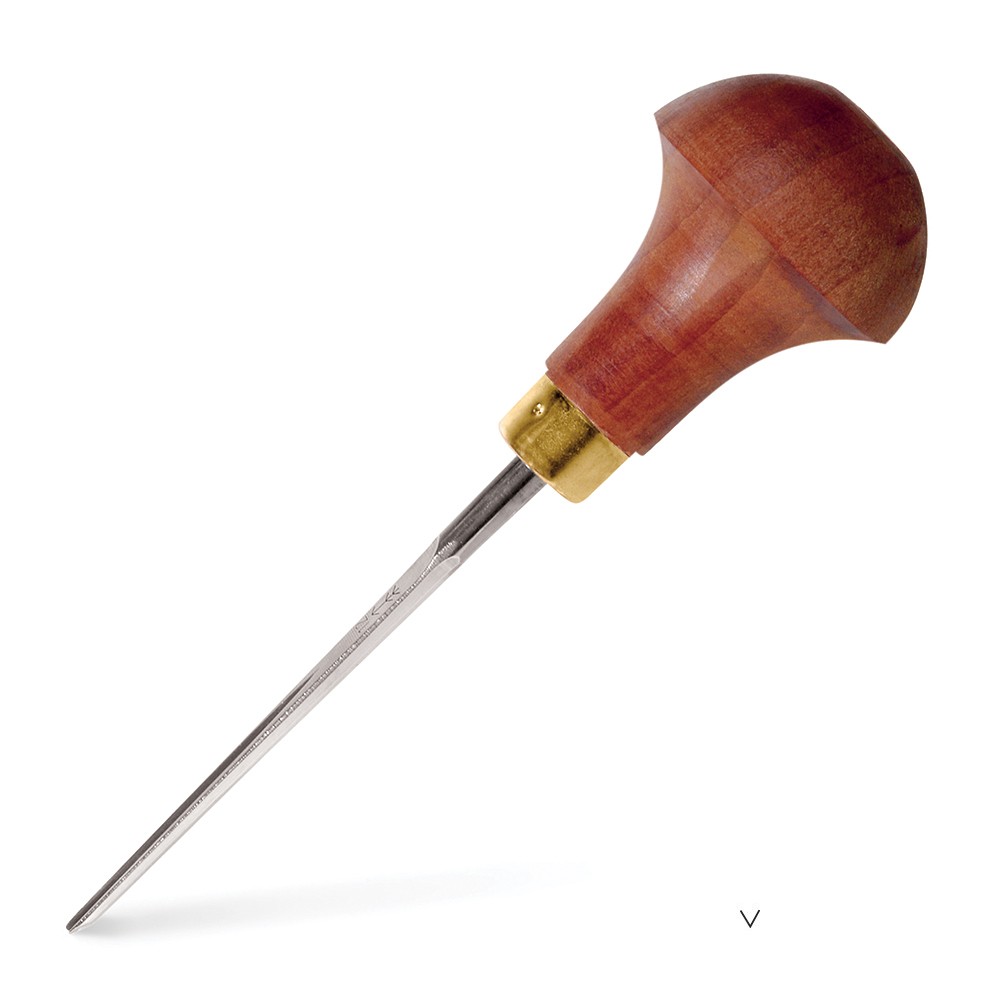 U Gouge Defined

A U gouge can have a couple of different purposes. The smaller U gouge sold in the pfeil set mentioned is called a veiner. It can expand the opening in the carved out portion that the small v gouge carved out.
The larger U gouges are used for clearing out sections of the linoleum. This can make it simpler for removing large sections where you may not want ink.

In carving out these large sections these U gouges can leave behind "Noise" is what I have heard it called. It is the small wavy lines that catch ink when you print. The wider the U gouge used the less of this Noise you will have left on your linoleum.

It's definitely the artists preference whether or not to keep the noise sections or to carve it out a bit deeper. I like the noise in some of my projects, but have tried to avoid it when I am making something a bit more technical.
Are these tools only good for lino cutting?

These Pfeil carving tools are not only excellent at carving linoleum, but they can also be used with rubber, or most commonly when carving wood.

Wood cut is another form of relief printmaking using wood instead of linoleum. The tool used for this are interchangeably used between linoleum and woodcut printmaking.

When I first got into linocut printmaking my Dad gave me an old set of wood carving tools we had used years prior in a wood carving class.
They worked fantastically, however I opted for the Pfeil tools not too long after because they had smaller gouges for fine detail.
How to care for lino cutting tools?

Pfeil tools will need proper care of its handles. A little linseed oil every now and again on the wood will help to condition the wood. In especially dry areas you may need to do this more frequently. You will start to notice the handles lighten and drying out.

If you want to go the more natural route or are a home printmaker and do not want to have certain chemicals in your home. I use olive oil to hydrate the wood on the handles of my tools. This will mean it needs to be done more often.

You will not need a lot of oil, just a bit dabbed onto a rag will do the trick. Use the dry side of the towel or rag to wipe off any excess oil.

Plastic or Varnished Handles

Some of the other kinds of lino cutting tools you can purchase may have plastic handles or varnished wooden handles.

If this is the case, oil will not be necessary for preservation. However, keeping the tools from exposure to heat will be important.

Keep all of them out of reach from any heat source like a sunny window. They will still last quite a long time even if kept in these environments, but there may be some cracking of the plastic handles or even some blistering of the varnished wooden handles.
How to Hone Lino cutting tools?

Pfeil has a guide about how to hone their cutting tools.  They suggest using a sharpening stone with a 100-120 grit.

For a guide from Pfeil about their specific sharpening stones they carry click here. (not an affiliate link, just for your information only).

I have personally not gone this route for sharpening the Pfeil tools. Instead, I use a Slipstrop which is a wooden and leather combination. This tool does not sharpen the tools, but it deburrs the inside of the gouges.
While carving the linoleum, I have had to use the Slipstrop a few times. It definitely helps keep the tools at their best especially to avoid injury.

How will I know when to hone Lino cutting tools?

You will be able to tell when it is time to deburr your lino cutting tools once you have started carving a bit and the tools do not smoothly cut away the linoleum and it requires more force.

Sharpening with a sharpening stone can be done less often and may not be needed for a few years of use.

It is best to use the slipstrop often during carving to avoid injury. After you have worked with your tools a bit and get used to deburring them or even sharpening them, you will get a feel for your tools and know when they need sharpening.

How long will lino cutting tools last?

With proper storage and maintenance your tools could last decades. They are like most tools, the better you take care of them, the longer they will last and work properly.

What are some more affordable lino cutting tools?
If you do not want to invest in your lino cutting tools you can get some really good options for less of an investment.

I still sometimes use my Speedball lino cutting tool for the larger v gouges or the Xacto blade.

Other options can include using a dremel for textured effects, or an Xacto blade, and even a small punch drill bit I found in a hobby store.

The fun part of making art can be the tools as well. If you get creative enough, you can make all sorts marks on your linoleum which can have some interesting results.