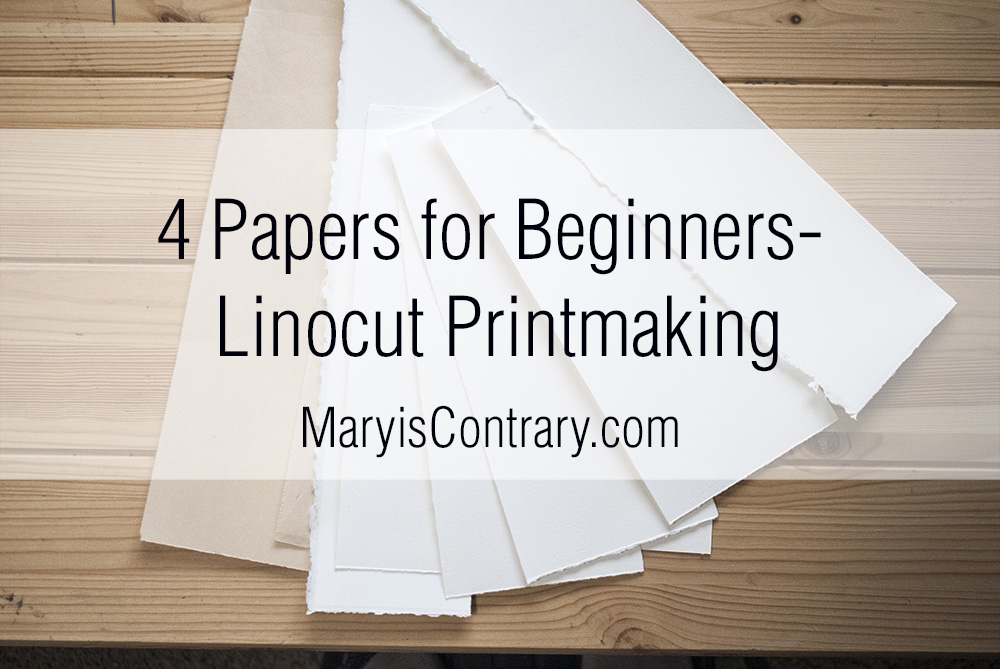 I have written about papers a few times within my blog, because it is such an important part of linocut printmaking. Here are my top 4 Papers for Beginners – Linocut Printmaking
If you would like to know about more advanced papers for linocut printmaking you can check it out here.
This post contains affiliate links, which generates some small commissions at no extra cost to you. This commission helps keep this blog and shop running. Thank you for your support. See my disclosure form for more information.
140 lb
Cold press
Acid Free
DESCRIPTION
Any cold press heavyweight watercolor paper is a great starter for linocut printmaking. It can be used with oil based or water based inks. I usually wet the surface a bit to get a good even print. However, if you use a press it may not be necessary.
VALUE
Excellent! Depending on the size of the pack of paper you can get a pack of 30 sheets for only 7 dollars USD.
WHY TRY IT
Every beginner in printmaking needs somewhere to start. This is where I started. Watercolor paper is widely available at any art store. Try it to get into it and then work your way around the paper you try.
DESCRIPTION
I like this paper a lot. It is fantastic to practice with. It is not too thick which makes it great for handprinting. I use this with linocut prints at workshops or monotypes.
VALUE
Excellent value. You get at least 50 sheets in a pack of paper for a great price, as low as 6 dollars USD for the smallest size.
WHY TRY IT
If you want a decent paper to practice with or use at workshops, or for any reason, try this paper. You will not be disappointed. My only concern with it is it tends to indent a lot if put in a press, so if embossment is your goal, try it!
Mulberry (Kozo)
45 g/m2
Neutral PH
DESCRIPTION
These are pre-cut Mulberry papers. They come in packs of 24-45 so if you are planning a little edition these are great for that purpose. I used these papers for my World War Two Restaurant Scene Print.
VALUE
I like the amount of paper you get with these packs. They are about 21 dollars a pack.
WHY TRY IT
These are fantastic for handprinting. The ink sits on the smooth surface very well and each print turns out quite nice.
280 G/M2
Acid Free
Heavyweight
Alpha Cellulose and Wood Fiber
DESCRIPTION
I used this paper on my Boy in the Water Print. It works great in a press and can withstand the pressure. I have not done a lot of hand printing with this paper, but I suspect, as long as you use enough arm pressure with a barren you should be fine.
VALUE
AMAZING! This paper for 11 x 14 pack of 15 sheets it comes out between 10 to 16 dollars USD.
WHY TRY IT
I really like this paper, if you have read my article about the 5 Papers for Linocut , you will have seen how much I like the level up of this brand of paper. It is an excellent paper to start with. However, I think that having a press makes it easier to print with.
Printmaking Forum
Once you try some of these beginning papers please check out the Printmaking Forum, where you can discuss further and leave your opinions about the paper you like.