This year with the pandemic has been hard on everyone. One group the pandemic has been difficult has been for is art teachers and instructors. I am an art instructor via zoom online for a nonprofit and I found a few tools that help me for teaching art online. 
How Covid Affected Southern California Artists
You can read more about how Covid affected Southern California's art world here.
Tools for Teaching Online:
Zoom
This one may be fairly obvious. Since most educators are utilizing this program to be able to interact with students. There are some cool features you can utilize while teaching with Zoom. Such as break out rooms, virtual backgrounds, and Multi-share options. This multishare option is great so you can see your student's screen if they are having trouble with anything.
Wacom Tablet
One of the tools I have found most useful is a Wacom Tablet. This awesome tablet allows me to draw on the screen when I am teaching to help the kids understand concepts from their screen at home. I am able to use this as a tool to draw and point out things while teaching.
Padlet
Another visual program I use to organize my curriculum is Padlet. I use it to create a timeline of sorts for my activities for the virtual classroom. I have been able to use this online program to fill the background with visual tools and images that keep my students engaged. This website tool also helps keep me on track as well.
Prezi
For online Webinars and presentations with Zoom I have used Prezi. This is an awesome resource, you can make very interesting and beautiful presentations for teaching online.
Clip Studio Pro
This post contains affiliate links, which generates some small commissions at no extra cost to you. This commission helps keep this blog and shop running. Thank you for your support. See my disclosure form for more information.
In addition to these tools I use a program called Clip Studio Paint. I have really enjoyed this program alot for teaching drawing on Zoom. It is perfectly paired with the Wacom tablet. There is no lag when you are drawing with the combination of the Wacom tablet and Clip Studio Paint.
It looks as if they even have a version of Clip Studio Paint for Chromebook as well so it could be an excellent combination for you and your students.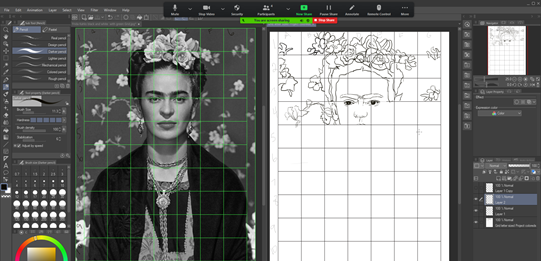 Clip Studio Paint one-time purchase and monthly plan, the artist's tool for drawing and painting.
I enjoy using this program for online drawing and have directed drawing sessions with my students to follow along during Zoom.
These are just a few of the tools that help me teach Art online. I would love to know what you all use too.
Thanks for visiting Mary is Contrary. Please take a look around for Printmaking at Home tips, Art related articles, and the Shop.