Changes in the Inland Empire's Art Community During Covid-19
The Art world has changed drastically since the Covid 19 pandemic started back in March 2020. The lock-down has not only impacted the art world, it changed it in many major ways. Art museums were forced to close, galleries to be shut down, art events be cancelled, and it altered the course of art education. Many facilities that depended on the interaction between people in order to survive have been altered dramatically.
These changes impacted me as well. I was just getting to know a lot of the artists in the Inland Empire and had begun collaborating with projects and events. I really enjoyed going to the local art events and meeting other artists as well as selling my prints to enthusiastic art fans. Having been distanced from my community of artists has been a very sad for me.
While any personal interaction has been put on hold for the time being, this experience has transformed the relationships we have with each other into an interesting internet community. It appears that there is a lot more effort than before in supporting the local artists.
Support for artists has been shown through the attendance in online workshops, and by organizations that have dedicated a lot of time creating new ways to educate in the arts, and provide resources for the artists that are really struggling during this time.
There are many avenues in which the art world has been drastically altered. One of those changes occurred within the local community of the Inland Empire and I wanted to show a small snippet of that transformation.
Resources for Artists
The Arts Connection Network has been working with local organizations such as Riverside Arts Council, and Music Changing Lives to help bring about a more connected environment within the artists community throughout the Inland Empire.
They have been working with organizations throughout California in order to advocate for the arts in Education, Provide relief and support for artists during this Covid-19 pandemic, and help provide a voice for artists campaigns and collaborations throughout the area.
In their latest meeting of the Arts for the IE (Inland Empire), they provided some of the resources for local artists that have been developed due to the Covid-19 Pandemic as well as other resources throughout California.
The Arts Connection Network are working on a few upcoming projects such as:
1. Formal training program for professional artist who want to becoming teaching artists in schools and community centers. Look for this in late August/september
2. Grantwriting training for CA Arts Council grants – look for this the first week of September. Includes a mentorship program for organizations we have never applied before.
3. The NEA Big Read is coming back to the Morongo Basin! Follow the BigReadMorongoBasin on IG for all the latest news and events.
4. California Arts Council Cares grants will be distributed in SB and Riverside counties through each of the local arts council sometime in September. This grant program will be open to arts organizations who primarily serve communities of color.
5. We just launched a showcase site for artists residing and working in the city of SB. www.sbartscollab.com Would love to see similar sites support and highlight local artists!!
6. Since COVID started, The Arts Connection Network have been working with Music Changing Lives to establish a regional arts advocacy coalition – this led to bringing on Riverside Arts Council and to the establishment of Arts for IE now! In terms of what's happening there, we have our next meeting scheduled for August 13th at 10 am.
They have also launched a new art campaign and call for artists, due August 12th. Details and a flyer below: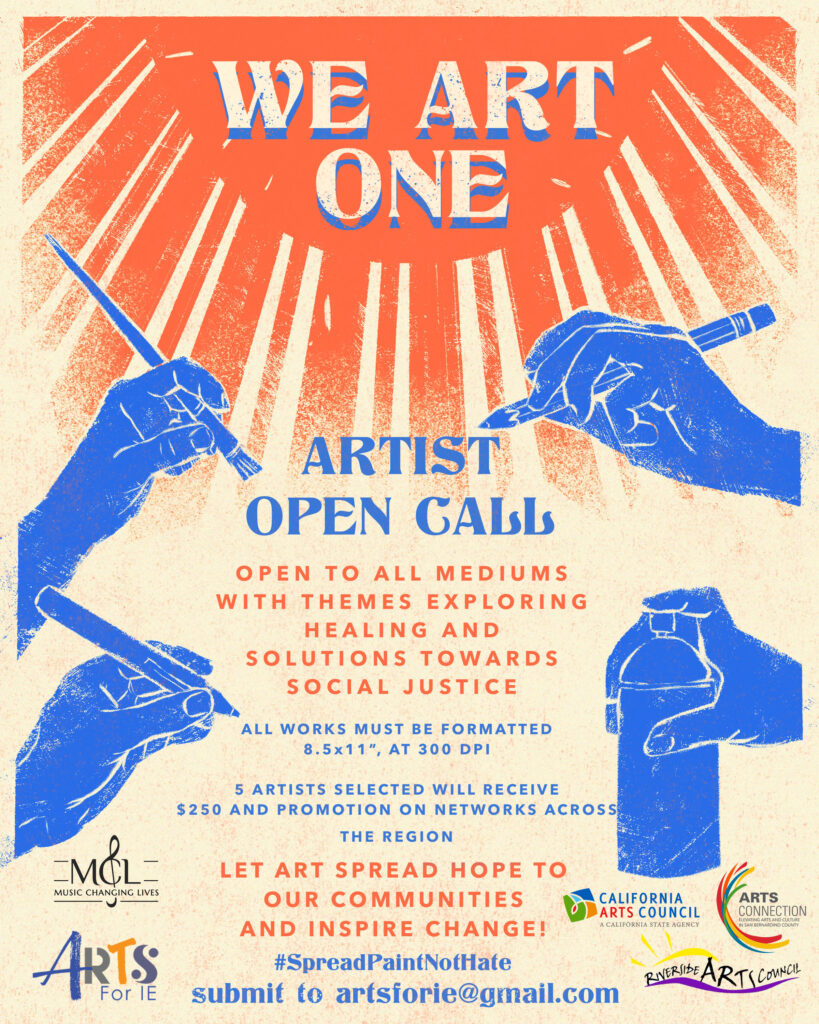 Open Call for Artists
Please incorporate "We Art One" into your creative responses. We are looking for artists of all background and media to interpret this message in the light of the challenges our communities face but through which, together, we prevail and emerge with more powerful solutions.
Let us imagine a world where We Art One and where art can be the vehicle for these messages to continue to spread hope into our communities and inspire change from the local to the regional levels. Show us how strong your vision is for this positive future.
We are looking for creative responses to and healing work towards solutions addressing
– gun violence
– homelessness
– anti-racism
– environmental justice
– immigration rights
– women's right
– indigenous people's rights
– stopping gang violence

We will select 5 artists' those selected will receive $250 for their work, as well as promotion in a wide variety of networks across the region.
All images must be sized for 8 1/2 x 11 inches for flyer and poster production. Images must be 300 DPI. TFF, JPGS or PDFS will be required.
These images and flyers will be widely distributed across the IE, as well as Inland SoCal. All art selected will also be available for free downloads for anyone to print and distribute locally in their communities. Submit to artsforie@gmail.com
Sponsored by Music Changing Lives, Riverside Arts Council, and Arts Connection.
In partnership with Arts for IE and with grant support from the CA Arts Council
You can stay up to date with the Arts Connection Network by subscribing to their mailing list or following them on Instagram.
Changes in Teaching
Teachers who have traditionally taught art in person, had to in a matter of weeks change everything they knew about teaching art, and move online. I have spoken with some of my own professors as well as reached out to some art teachers from local high schools and asked them about how their progress from last semester went.
I asked them what their opinions were as far as transitioning into online education and their outlook for the future of online learning.
Colleen Sparlin from Sultana High School said that the school district helped the students a lot by providing them with laptops, internet access, and paper packets. The transition from in person to Google Classroom was fine and she responded quickly to emails and messages from students.
Classroom Transition
She said the students had difficulty since they had never been instructed how to complete their school work this way and only about a third of the students responded regularly.
"Only about 1/3 of my students from all classes responded and worked on projects. Some didn't ask questions if they didn't understand and ended up doing the assignments incorrectly. They still got credit for working on projects even when they didn't follow directions.
If I had to do the same next year I would be more proactive and ask students to post progress on their projects at least twice a week so correction, suggestion, and instruction could be done. I think the simple fact that it was the end of the year and totally something students were unfamiliar with, made some not interested and some unable to complete assignments."
Sparlin, who decided to retire after the school year was completed, was optimistic that with the new school year coming up the students would have a better idea of how to complete assignments.
Relationships Affected
"I think it will affect the hands on learning style that many teachers are used to and value. I also think students with learning disabilities will be impacted the most and this is upsetting.
Students will not get the emotional support and caring that many teachers give. If you think back to school years I bet you can think of at least one teacher that had an impact on you.
It isn't all about teaching academics, but also about relationships. This also includes the social interaction between peers. There are enough computer activities, video games, etc in the world. People need relationships to understand empathy, caring, and sacrifice for others. "
Changes in local Galleries
Other local establishments such as the Artlands, a Redlands based Art Gallery, had to close temporarily due to statewide restrictions preventing outbreak. It forced the gallery to move their art online.
The Artlands is a not for profit art gallery which showcases local up and coming artists located within the Inland Empire. They also aim at building up the creative economy in the Inland Empire and desert communities. The gallery has since reopened, but has had to rethink their strategies for raising funds in order to stay open. 
"We are unable to have our normal featured artist events so we've had to be creative in how we promote and put on our monthly shows. So far we've turned to group shows in the form of online auctions that have raised funds for local workers affected by COVID-19 and now for BLM." Said Daniel Gohman, Founder, Art Director, and Curator for the Artlands.
Currently, the Artlands is hosting a fundraiser for Black Lives Matter in order to raise funds for UNCF and Truevolution.
You can purchase these items at the Artlands.
"Black Lives Matter" poster by Yulissa Mendoza
"We also now have a line of merch/t-shirts designed by our artists. This originated as a fundraiser for The Artlands, but has evolved into an ongoing clothing line and we will be putting out new designs each month.
The proceeds go to support our organization, but we also pay the artist for each shirt/design that sells and we support a local screen printer. All designs are created in the Inland Empire and printed in Redlands."
Diavolist Returns
This month the Artlands has introduced a new brand called "Diavolist", "Diavolist has been around since 2015 and put on pop-up art/film photography shows until 2018, when they went on a hiatus. It is also a skate/lifestyle headwear and apparel brand.
Diavolist is meant to describe someone that gives daily and in that spirit a portion of proceeds from the sale of each item go to foodbanks, providing socks to the unhoused, and to whatever organizations The Artlands is supporting at the time. You can follow along on Instagram at @diavolist. "
I asked Daniel from the Artlands if there was anything he was looking forward to in the near future and if he felt optimistic about the arts in general and especially within our community.
"I'm really looking forward to continuing to grow and evolve as an organization. We started in late 2018 as just group shows and last year we secured a space and a nonprofit fiscal sponsorship.
Evolution of the Gallery
Now we are evolving into a clothing line and a marketing agency that really has the potential to generate jobs and income to creatives in our community so I'm excited to see the evolution of that.
COVID-19 has made us rethink how we run our entire business/organization. At the end I think it will have made us stronger than we were before. It has made the arts community that is surrounding our organization really come together in a way that I don't think was happening before and people have really stepped up to help.
It's really a positive thing that people don't want to go back to how it was a few years ago when there wasn't a whole lot happening in our area around the arts."
I was so glad to get responses from the Artlands,The Arts Connection Network, and from Colleen Sparlin. I am grateful to have gotten to know these organizations and was able to develop these relationships with them pre-Covid-19.
Support the Artlands
My wish is to help as much as I can in this new art world we live in. It feels like building and maintaining these relationships between the artists in this new emerging world is so important. We need to help and work with each other as much as we can.
If you would like to help out and donate to the fundraisers mentioned, here are the links to those and to the other resources the Arts Connection Network have provided:
Funding, Relief packages and Legislation Updates
Updates on CARES funding and other CA state legislation shared from Julie Baker, Executive Director of Californians for the Arts and California Arts Advocates.
Great reference to follow:
www.californiansforthearts.org/ab-5And www.californiansforthearts.org/advocate/bills-budget

Additional funding opportunities
1. CAC Arts Administrator of Color fellowship – deadline July 31st – http://www.cac.ca.gov/programs/acf.php
2. Riverside County Nonprofit assistance fund: https://www.iegives.org/riverside-covid-npo-assistance-fund
3. SB County Covid Compliance business partnership program ($2,500 operating support): https://sbcovid19.com/covid-compliant-business-partnership-program/
4. The IECC Monthly Grant bulletin. Check out July's link here. https://files.constantcontact.com/15bb74de501/9451a0a5-3d00-483d-8395-9a5784761f8d.pdf
.
*The SBA IE/OC office created this list of lenders who will work with new clients. (Many banks were/may still be prioritizing clients with existing relationships) for PPP Loans: https://sba.app.box.com/v/SBACovidResources/file/660260060344* Also the Economic Injury Disaster Loan (EIDL) application portal has also reopened.

Arts Campaigns and Collaborations:–
Speak up for What's Right – see more on the Instagram feed: https://www.instagram.com/musicchanginglives/?hl=en–
We Art One – Call for Compassionate Action – More info here.-
Mural Project – Peace on Route 66. Please contact Josiah at: musicchanginglives@gmail.com –
Curious Publishing – Fire Relief Fundraising and Art Auction www.curiouspublishing.org
We are now launching the Curious Fire Relief Art Auction to raise funds to recoup some of the $8,000 worth of art publications and merchandise lost in the fire. Please email: john@theartsarea.org
Please Subscribe
If you would like to stay up to date with local art events online or in person, please subscribe to my mailing list. Thank you again for visiting Mary is Contrary!