Description
Bench Hook Directions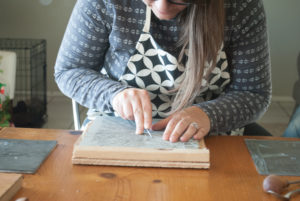 These Bench Hook Directions PDF is a free Download for you to use. These directions are instructions on how to build a bench hook approximately 2 feet by 2 feet depending on where you source your materials to build with.
A bench hook is used to aid in stability while carving on a table top.
It will help protect your table top from damage if you slip with your carving tools.
The instructions included provide you with simple instructions on how to build your own bench hook to aid you in carving linoleum blocks. 
How to use it?
Simply place up against a table's edge for added stability while you carve linoleum or wood for printmaking.
You can place a non slip material such as cork or non slip shelving material on top of your finished bench hook.
Bench Hook
Bench hooks are wonderful for added stability when carving your linoleum block. You can purchase a plastic pre-made one online or you can make your own. 
I have made my own  out of scrap materials and I love it. 
Here are some photos of the one I made my self. The one you will make will be larger, but essentially the same. I would love it if you could comment and send me your finished bench hooks.
A benefit for making your own is you are able to modify the design to fit the dimensions you normally work with.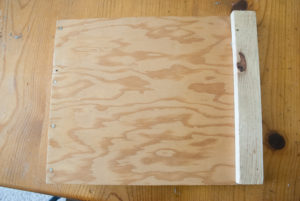 Included in this post is a PDF with plans on how to make one at home. 
The wood can easily be found at Lowes or your local hardware store.  (The links are not Affiliate Links). 
What You Will Need
              You can have this cut in half at the store to give you two pieces 18 inches. 
   

One 2 foot by 2 foot ¼ inch plywood.

 You can have one side trimmed in the store two inches       or  you can leave it alone. 

A drill (the hex bit should come with your pack of screws.) 

A drill bit measured a bit smaller than the screws you purchase. 

A spare 2 x 4 or small piece of wood. You can also use the trimmed sections of your plywood you had cut off at the store. 
Directions
Cut or have your dowel pieces pre-cut at the store from 36 inches to 18 inches

Use your drill bit to pre-drill both dowel pieces approximately every 3 to 4 inches. Use the spare 2 x 4 underneath as you do this in order for your pre-drilled holes to come out as cleanly as possible. 

Place one of the dowel pieces centered at one end of the wooden plywood. 

Drill the dowel onto the plywood. 

Turn the plywood upside down.

Place the other dowel piece centered at the other end of the plywood on the opposite underneath side of the plywood. Drill in place.

Your Bench hook is now assembled. Congratulations!
If you would like to learn more about printmaking at home with linocut, I have several blog posts that can help you get started.
 What are the best Cutting Tools?
Printmaking transfer with Transfer paper
5 Papers for Printmaking with Linocut
This is a free resource designed by artist Mary Vasquez. All rights are reserved.