In order to transfer an image onto linoleum using graphite you will need to follow a few basic steps.

Most of these steps are exactly the same as when you transfer with carbon paper.

Before You Start
There are a few things to remember when using graphite as a transfer method.

First…
First, graphite may not transfer onto certain types of linoleum with a slicker surface. You may have to prepare the linoleum first with some fine grit sandpaper.

Second…
Secondly, graphite can be rather shiny or reflective on the surface of the linoleum. This may make it difficult to see certain lines especially if there is a light shining directly onto the linoleum while you work.

Third…
Third, graphite smudges! While working graphite will rub off onto your arm, hand, table, or wherever it makes contact. I usually try to be mindful of this while I work and I try to start at one corner and work my way into the carving to avoid this.

Last…
Lastly, graphite is very difficult to trace on top of with a permanent marker. I have only done this step to avoid losing any details to smudging. However, when I have done it, the graphite tends to rub itself onto the tip of the markers making them useless! Sad Face.
I hope I didn't just talk you out of trying this method. They are just some things that need to be accounted for before starting or you will have a sad face too.

LINOLEUM FOR THIS PROJECT
This post contains affiliate links, which generates some small commissions at no extra cost to you. This commission helps keep this blog and shop running. Thank you for your support. See my disclosure form for more information.
Unmounted Easy to Cut Linoleum

What you will need

Graphite pencil or Graphite sticks
Linoleum
Sharp pencil or Pen
Fine Grit SandPaper
Masking Tape
Drawing or Photo Printout (Directions on how to prepare images)
Lightly sand the surface of your linoleum in order for the graphite to transfer properly.
Take your drawing or your photo print out and rub the graphite onto the back of the paper. If you are using an original drawing I would first make a photocopy and then use that instead of the original. I would hate for any original work to get ruined by the graphite.
Line up your image onto the linoleum with the drawing facing you. Then use the masking tape and tape it on the top and one side of the linoleum. You leave a flap to make sure your image is transferring.
Use your pen or sharp pencil and begin tracing your image. Use the corner that has not been taped down to check your image is transferring.
Once your image is transferred remove your taped image and proceed to carving out your image. Be sure to remember all the troubleshooting tips I gave above.
Happy Carving!
If you would like to know other transfer techniques I have a post on this if you would like to bookmark it for reference.

UPDATE…
I finally got around to carving out this flower and I printed it. Here is the finished product. I call it April Bloom. I'll put it up for sale in the shop soon.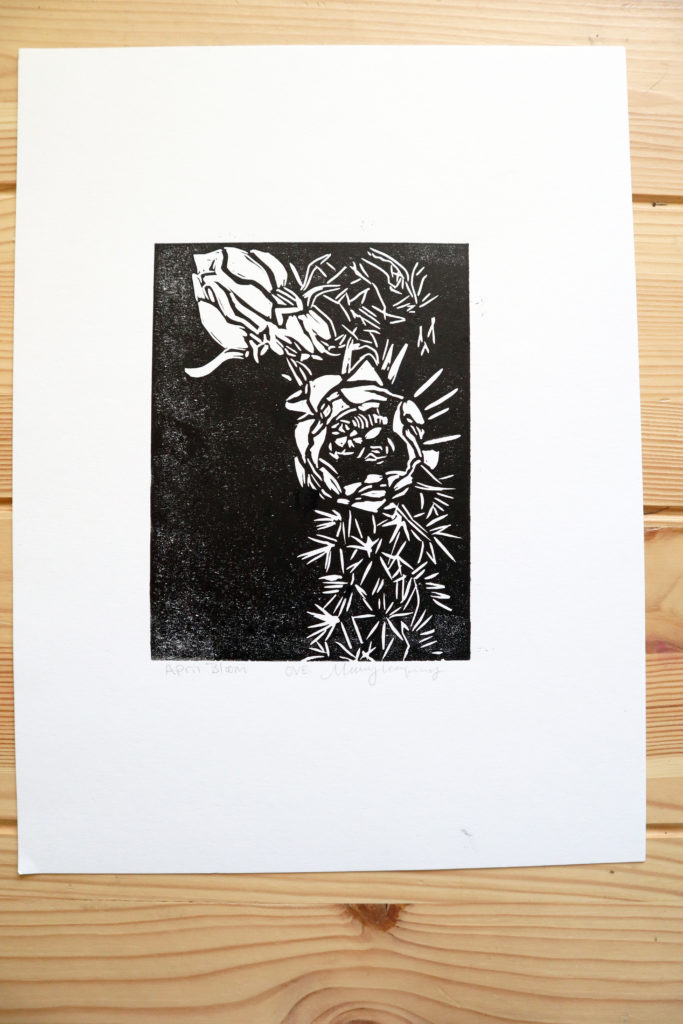 More Transfer Methods