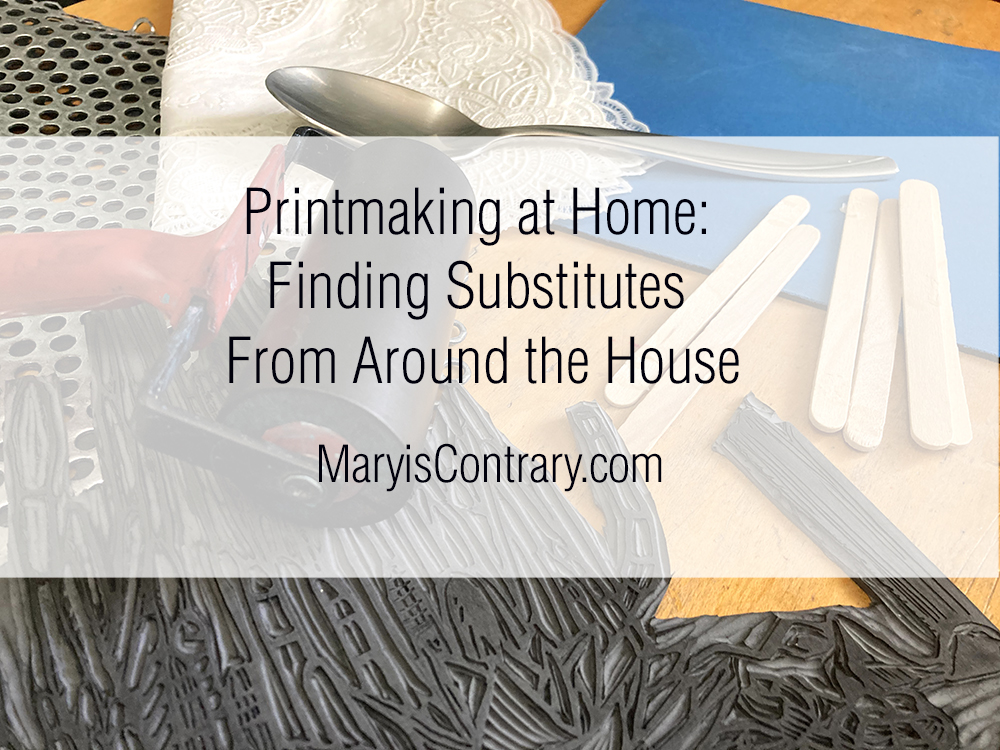 Printmaking at Home: Finding Substitutes from Around the House
When you start printmaking at home, you come across the amount of supplies needed for printmaking and it can be costly and overwhelming. I am going to help you to find substitutes from around the house. 
I know how much paper and materials can cost, especially if you are doing a large edition.
You need to start saving money somewhere. I have found that sometimes I need to save up to buy quality papers and materials. I have some suggestions for very affordable materials as well.
Affordable Materials for Printmaking
If you need some great carving tools at an affordable price, check out this post here.
I wrote a post on some beginner friendly and very affordable paper suggestions for printmaking at home.
I am a very frugal person and I find that finding these alternatives to printmaking is a bit of the creative process. It can be fun to find resources around the house and can even lead to new ideas.
Money Saving Substitutes
I hope you can find some use or some ideas of your own to help you to save money in your printmaking. 
Spoon – Substitute Baren – Wood or Metal, big or small It is what I started with. 
Vinyl tablecloth – Monotype materials – You can ink right on the table and lay your paper down. I will have to say, use an oil based ink or you will not be able to lift the print. 
Mouse Pad – Makeshift Press Blanket- This adds extra pressure without hurting yourself if you are hand printing. 
Ink Pad – if you want to make a quick check of your linocut print or its great for handprinting onto greeting cards
Clothespins– This makes an excellent way to hang dry your prints. I have seen some awesome clothespin rigs that can dry many prints at one time by sandwiching clothespins in between some wood pieces. 
Bakers twine– excellent for stringing up your clothespins to hang dry prints
Old Photo frame glass – tape up the edges and stick a white piece of paper underneath to create this inking surface
Plastic Placemats– These make excellent surfaces for rolling our ink or for a monotype surface
Photo mats – If you have an old photo mat laying around, you can use this as a barrier for monotype printmaking that way your prints come out nice and formatted. 
A Clear plastic storage tub makes an excellent lightbox for transferring. You can read about my lightbox substitutes here. 
Lace placemats – I have used these to add a bit of texture in my prints or as stencils for monotypes or print making with linocut. 
Burlap – Remember when burlap was so popular? Well if you have moved on from decorating everything with it, you can recycle it to add texture to your prints. 
Craft popsicle sticks – these make excellent mixers for your ink. 
I hope this list helps you to continue printmaking at home and will help out with costs in your future printmaking art pieces.
Please let me know how you save money printmaking using items around your house.
If you would like to learn more about the printmaking process, Check out these posts here.
Add your comments and insight to the Printmaking Forum.
More about Materials
If you are struggling to find art materials for yourself as a student or if you need art supplies your class you teach. You should check out this great non-profit organization I run that could help. You must live in the San Bernardino County or Riverside Counties so apply. (We also take donations). Visit the Recycled Art Supplies. 
Join the Art Club
Also, if you are an artist and want to meet other artists, come to our monthly club meeting at the Contrary Art Club.