What do you need to set up a printmaking studio at home in a small space?
If you are thinking about setting up a printmaking studio at home you might want to consider how much space you have to use. If you live in a small space you can set up in something as small as a counter space.
When you have a larger area to work with, then you can do a lot more. This sounds fairly obvious, but I started out with printmaking in a very small amount of space and worked up to converting my dining room into a print studio.
I am not suggesting you go to the extreme of converting half of your home into a print studio, but if you are as nutty about print as I am… chances are you have already started to take over sections of your home. In the near future I will write about that in another article.
I want to clarify that I am not writing about having any chemicals in your home for printmaking such as a place for etching. I am strictly talking about printmaking at home.
"Home" being the main point here. If you use chemicals in your printmaking, that is your choice, however, I choose to write about using as much non toxic or low danger processes so that printmaking can be explored worldwide in your homes.
Now that I have gone on a small tangent, let me circle back…
Small Printmaking Studio Essentials
Here is a list of basic items you need for relief printmaking at home and do not take up much space:
Some sort of table top (a counter or a small table)
A bench hook (you can find free plans for this here)
A sheet of wood or linoleum
A trash bin for shavings
Carving tools ( you can find out which are my favorite here.
A small area for paper storage and ink. I have used a drawer or a small container.
A spoon or barren
You can find out a complete list of how to get started with linocut printmaking here.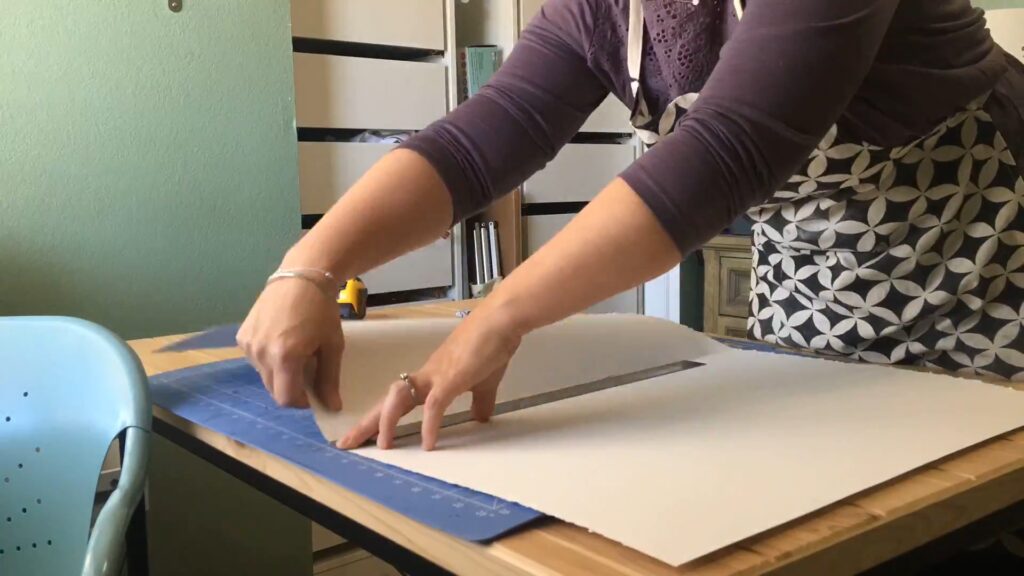 Stages of Printmaking at Home
Using a small space for printmaking is doable, it just takes a bit of organization, cleaning, and doing things in stages. For example you can organize your space for the following stages:
Sketching and transfer
Carving and clean up
Paper tearing or paper preparation
Registration
Inking
Printing
Drying
If you are doing another kind of printmaking at home such as drypoint (intaglio), or monotype or collagrah; the process is basically the same. Drawing – plate building – paper or textile prep – registration – inking – printing
It is a process, but definitely can be done!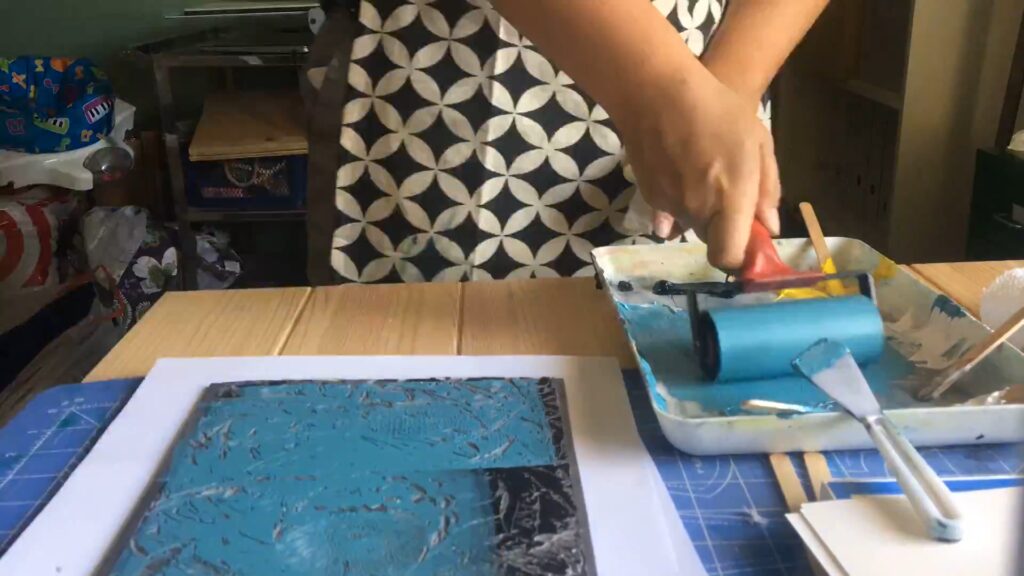 As you might be able to tell in the background of some of these photos, I had to share space with my babies toys and other items for storage.
If you do have a small home studio, I would love to hear from you and see what you have done in your small spaces to create a functioning home studio.
You can send me an email or you can join my Printmaking for Beginners Facebook group and share it there. I am sure not only myself could benefit from your input, but from printmakers from around the world.