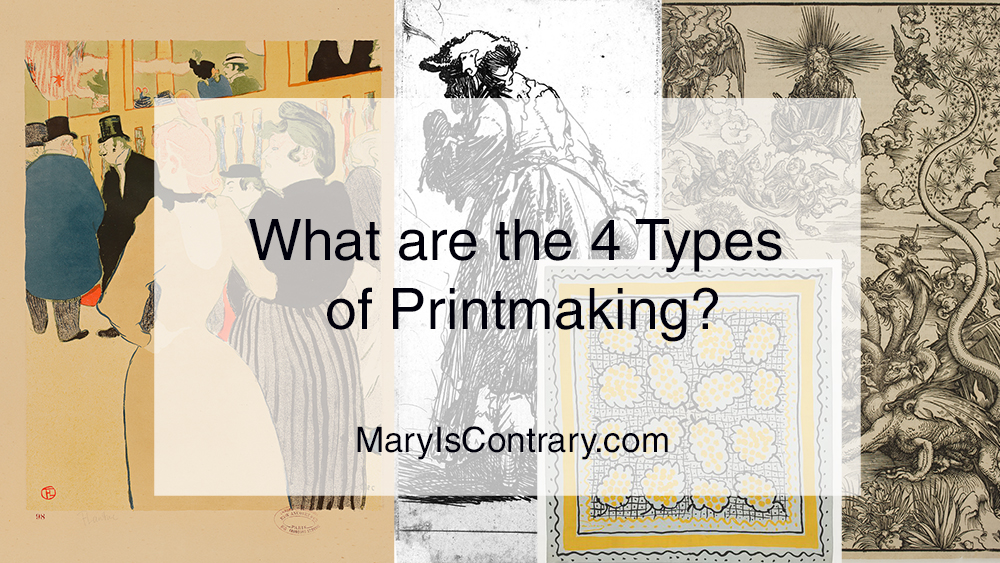 There are a lot of crossover terms in printmaking and sometimes it can get confusing. It makes some ask what are the 4 types of printmaking?
It is helpful to have a category for each kind of printmaking. The beauty of printmaking is that you can use some of the techniques from one category and apply it to another.
For example, you can add texture or mask out sections of a relief print by implementing stencils. Stencils can also be used in monotype printmaking.
Find out how I used plants as stencil for monotype.
Sometimes, as the crossover of printmaking techniques occurs, a new name for that particular printmaking arises. However as far as traditional classifications, the following types of printmaking are the ones most types of printmaking fall into.
Relief
Relief printmaking – Relief printmaking is mostly associated with woodcut, wood engraving, or linocut. In this process, the surface of the wood or linoleum is carved using carving tools and then the ink is applied to the surface of the matrix.
The difference in this process with intaglio is that the ink sits on the left over surface that has not been removed instead of sitting beneath the surface.
The paper is placed on top of the surface of the block and then printed leaving a slight embossment from the block.
Woodcut is one of the oldest methods of printmaking used in China as early as the 9th century and was originally printed on textiles before the invention of paper. Afterward, the intaglio methods were invented to speed up this process.
Famous artists: that worked with Woodcut Albrecht Durer "Four Horsemen of the Apocalypse and Picasso worked with linocut "Still life by lamplight"
The Apocalyptic Woman Albrecht Dürer
Famous Woodcut: Katsushika Hokusai "The Great Wave"
Stencil
Stencil- This process is done when you force ink through a shaped opening. Screen printing is based on this process. It is one of the oldest methods of printmaking used in Japan and China as early as 500 AD.
It was made popular in the United States in the Pop Art movement by famous artists like Andy Warhol.
Famous Artists: Andy Warhol was a famous screenprinter. "Brillo Soap Pads Box"
Screen-printed silk head scarf, designed by André Derain, made by Ascher Ltd, London, 1947.  Grey silk head scarf screen-printed with a pattern of grapes outlined in black and filled with yellow dashes. Framed by irregular black and yellow borders. Screen-printed silk. 
Planographic
Planographic- this process is mostly referred to as lithography. The process is a bit different because nothing gets engraved into the surface in order to print. The drawing is done with a grease pencil on a sheet of limestone, and based on the principle where oil and water don't mix. The surface is treated with some chemicals and then ink is applied and printed. This process was invented to speed up the etching process.
Famous Artists: Henri de Toulouse – Lautrec "Jane Avril"
Au Moulin Rouge, la Goulue et sa Soeur
Henri de Toulouse-Lautrec
Intaglio
Intaglio – Is usually done with a metal matrix which is either engraved into or chemically etched. In this process when printed, the ink sits in the recesses of the metal.
Then the ink is wiped off and when pressed in an etching press with paper laying on the surface, only the lines which were etched appear on the paper.
There are other forms of Intaglio such as drypoint, engraving, mezzotint
Famous Artists: Rembrandt van Rijn famous engraver "Three Crosses"

Old beggar woman with a gourd. Etching by Rembrandt van Rijn, 1629.
Collagraph
There are other types of printmaking which combine techniques and then end up as their own category. Collagraph is one of these types of printmaking techniques. Collagraph can be printed in an intaglio or relief.