Muzeo Reopening featuring Cal State University Fullerton Graduate Students.
In a recent collaboration, California State University Fullerton and Southern California's Muzeo Museum and Cultural center started offering Exhibition space for recent Graduates of the college's Masters of Fine Art Program. 
The graduates of the MFA program were required to have their artwork shown as a requirement for graduation. Due to the college closures, this prevented the future artists from completing their college requirements. 
With the MUZEO Reopening, The museum graciously opened up their bottom floor exhibition space for the college graduates.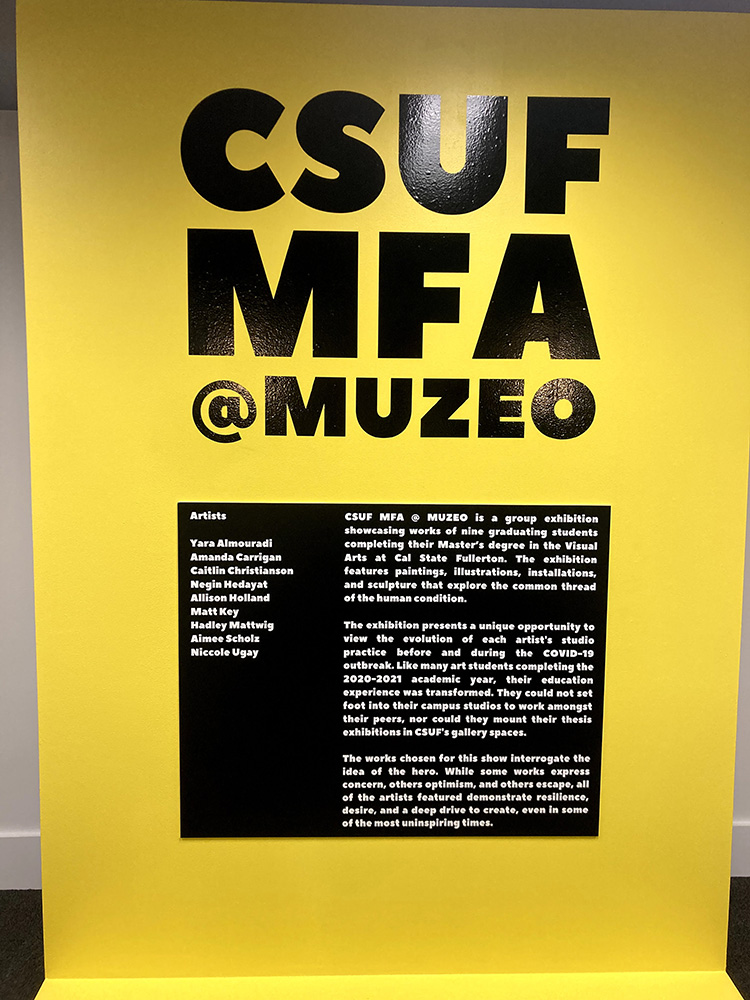 "The Common Thread of  the Human Condition" this is what it states on the front of the exhibit for this group graduate show for the graduates of the MFA Program at CSUF. 

"The exhibition presents a unique opportunity to view the evolution of each artist's studio practice before and during the Covid-19 outbreak. .. their education experience was transformed. They could not set foot into their campus studios to work amongst their peers, nor could they mount their thesis exhibitions in CSUF's gallery spaces. … All of the artists featured demonstrate resilience, desire, and a deep drive to create, even in some of the most uninspiring times." 
Monotype Prints on Display
I went to the reopening to see some monotypes that were on display. They were completed by recent MFA Graduate, Niccole Ugay.
As a huge printmaking fan myself, I was very excited to see this rare medium on display. And I was able to meet the artist and ask her about her process.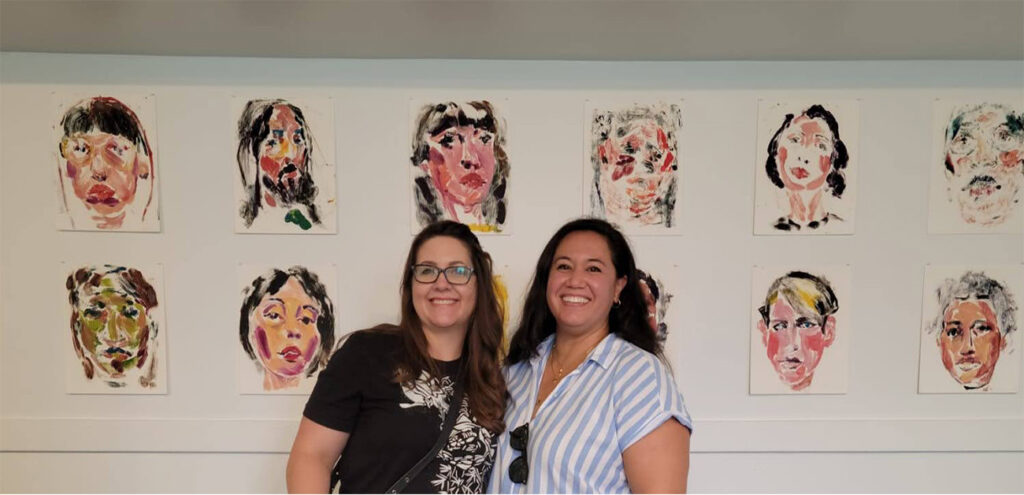 Ugay did not have any kind of printmaking press at home. She had to come up with an alternative method to print these monotype portraits. Under normal circumstances, the artist would have had access to a printing press available to the artists at CSUF. However, because of the pandemic, she had to find alternative printmaking processes which she could complete from home. 
The Printing Process at Home
Utilizing more creativity with the process of her art making, Ugay created a smaller book press at home.  She said she sandwiched two pieces of plywood with felt and plexiglass. The pressure was accomplished with clamps wrapped around the outside of the wood. All of these items could be found at the local hardware store. 
If any of you at home have tried to print monotypes without a press, it is very difficult without the proper amount of pressure.  I have had little success unless I use a gel plate. After viewing the monotypes, I think Niccole Ugay had a lot of success in her ability to execute the portraits in her printing from her home. 
Ugay told us how she printed some of her larger monotypes. Due to a lack of a large printing press, she used her car to add the pressure needed for her larger work. Not unlike the Steamroller Printmaking events. Her paintings and larger monotypes will be on display at the Freedman and Duff Galleries at California State University, Fullerton's campus after July 31st, 2021.
In order to maintain her brush strokes and give the impression of a dry brush, she let the oil paint  sit on the surface of the plate  until almost dry before she would print her pieces.
Materials Used
Ugay decided to stray away from using traditional inks in her portraits and instead used oil paints on printmaking paper. This is not an advisable thing to do, since the paints have bled through the unsized paper. 
You can find out more about paper with printmaking here.
Ugay chose her subjects in her portraits with found images such as magazine photographs. Her intention was to reduce her control over her artwork and distance herself both physically as well as with her method of execution.
During the pandemic, this kind of distance is so relevant since the artist's only interaction was through a screen for the last year and a half.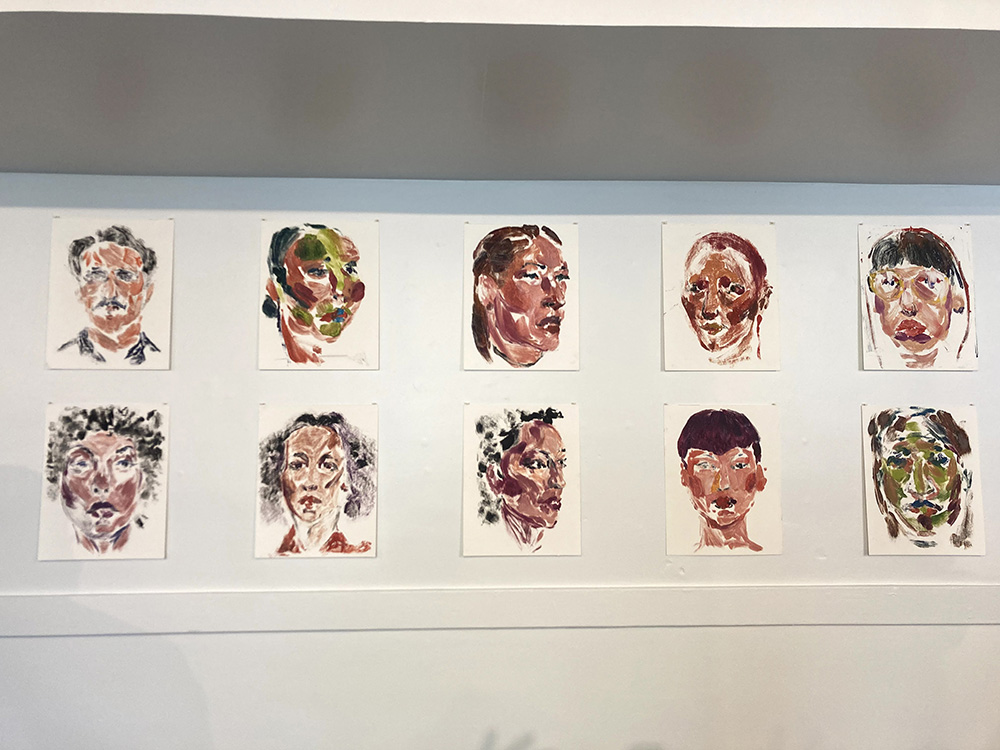 Another artist at the exhibit, Dmitriy Astakhov, asked an interesting question about the medium used. He asked why the artist decided to use monotype for her portraits instead of painting with the oils directly onto the paper.
Distancing Herself from Her Work
After asking Ugay, she explained that she tends to have so much control over her artwork in her work as a fashion designer. She wanted to distance herself as much as she could in order to relinquish the control she normally has. 
With her portraits, she chose her images because she did not know the subjects. With gestural brush work painted from a distance using long brushes. She painted on plexiglass with oil paints. And with her printing, was more removed from her pieces and the control by having the prints printed instead of painting directly on the finished piece. 
You can read more about the connection during the print process by taking a look at the Contact, Art and the Pull series.
Where to See the Artwork
I was glad to visit the MUZEO. And I was so happy to see the museum welcome the recent graduates into their museum. Congratulations to all of the MFA graduates. 
Muzeo Museum and Cultural Center
The artwork will stay on display from July 10 – August 29, 2021. 
Admission is Free