Description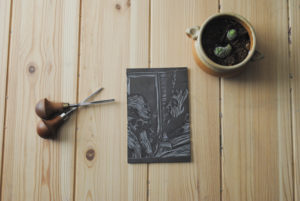 Process/inspiration: Father and Daughter is a print made from a hand carved linoleum called a linocut. This Print is of my Father and I when I was very small. This linocut is hand carved by me, Mary, and hand printed on Strathmore 500 Series Riverpoint  Archival acid free paper with black ink. This is an edition of 15.
The printed block measures 4 x 6 inches and will matt with a 5 x 7 opening nicely as pictured. The paper size is 9 x 10 inches.
Handmade: In order to achieve the beautiful print I first need to draw the image onto a sheet of linoleum or a wood block. Then I carve away parts of the linoleum in order to leave a negative image of the print. Ink is then rolled onto the surface of the linoleum and paper is applied with pressure using a small kitchen spoon or an etching press. In result, there is a slightly imprinted print on the paper.
The paper used is Acid free and all prints are printed with permanent Ink.
Note:
Each Print is sold separately and does not include the original linoleum block pictured (it is simply shown to demonstrate the process when making the print).
As the artist I sign all my prints in pencil under the image.
All items are designed, hand carved, and hand printed by the Artist.
Shipping: All prints will be shipped with the utmost care. The art will be carefully placed in a rigid mailer in order to ensure the art does not bend during transit.  Tracking will be included in the United States to ensure delivery. Please allow extra time for delivery in other countries in some cases can take up to 8 weeks.